Furniture Collection Services in London Amazing Prices
Get rid of the unwanted furniture with just a phone call to 020 8434 7484! We cover all London areas.
It is time to free some space by calling for old furniture collection.
If the time has come to finally replace that old sofa and chairs with something a bit more appropriate, you will certainly want to hire a furniture collection service. Rubbish Less is the ideal choice when you feel like picking up heavy furniture is the last thing you want to do. Our company in London has well trained experts who can handle with ease any type and number of furniture pieces you have in your home and take them out of your rooms and onto the vehicle. It is by hiring our furniture clearance service that you can save yourself a great deal of trouble.
Of all the companies in London that you can hire for the job, we are definitely the one to consider. Here is why you should pick up the phone and contact 020 8434 7484 for our service now:
Furniture collection
Punctual arrival, quick removal and no delay
Same day service
Fair pricing and no added costs
Friendly and welcoming staff
Adequate handling of all furniture pieces
Who can benefit from our service in London?
Throughout the years we have found out that many people have chosen to rely on our service. In some of these cases we encounter elderly people who cannot deal with furniture clearance on their own. Other times we find that people who call 020 8434 7484 simply don't want to struggle with lifting that 3-seated sofa and would rather prefer our help. Regardless of who our client is, we are always happy to assist them. The quality of our work can save you a huge amount of struggle. Never hesitate whether to hire our furniture collection service and contact us now.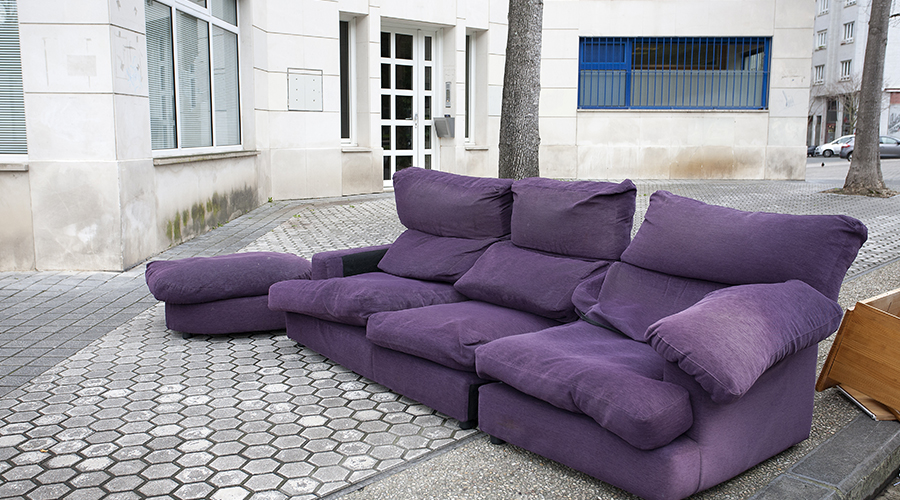 What furniture can we take care of?
Our expert staff has acquired a lot of experience throughout the years. You can hire us for both office and home furniture clearance. It doesn't really matter if you have a huge kingsized bed in your bedroom or an extremely heavy sofa with a fold-up bed underneath; we can handle it all. At Rubbish Less we believe that there is value in every item, so we will make sure that your furniture doesn't go to waste. That said, recycling or donating the items you want to hire furniture disposal services for, there are always options you can consider.
Price, date, volume of removal and other details
We have come to realize that getting down all of the details is very important for a quality furniture removal service. For this reason our representatives will be very thorough in explaining how our service works and how the price for it is formed. After just few minutes on the phone with one of our team you will know the specifics of the work we do and how the price is formed based on the sofa clearance you need done. That way you can make an informed decision about hiring our London services.
What do you have to do to hire us?
We realize that people always have busy schedules and don't want to waste their time. For this reason we have made the procedure to hire us quite easy and speedy. Basically, you can call 020 8434 7484 and arrange a discussion or a visit from one of our experts. After careful evaluation of the volume of your furniture clearance job, you will be presented with a free estimate on the price of our service. If you find it to your liking, you can then proceed to pick a date and time suitable for you, when our service will be carried out. That is all it takes to hire our professional furniture collection service in London.